I love cooking and have thought about the possibility of enrolling in some culinary courses when my career in education concludes. What I really enjoy is the freedom that comes with creating a dish and, if it is a success, the reaction of my family. In the past, I have created wonderful meals for myself, but there is something more satisfying when someone else has that positive reaction. Of course, not every meal is a success. I recall when I was 14 or 15 my dad and I were alone for the weekend, and I volunteered to cook supper. I thought pasta with chicken, vegetables and a creamy sauce would be a great meal. I thought wrong. What I created was a pot of glopity-goo that looked terrible and tasted worse. I also learned a little about my dad that day when he powered through a bowl full before offering to take me out for a burger, fries, and milkshake at our favorite local cafe. Talk about feedback!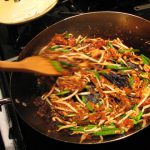 While dad did not say what he was likely really thinking, my kids are not as gentle when my meal misses the mark. They are quick to tell me if it is too salty, too spicy, or just gross (their words, not mine). This happened this past Friday when the chicken pad thai that I created was tried by all (a family rule) but rejected by some. As we sat together, the feedback began to flow freely. Charlie was the first one to say that it didn't really look like something he would enjoy, but he did try it. It was a little too spicy for him, but he ate enough to satisfy his hunger. Maggie was not as willing, and after two bites, opted for the plain noodles and chicken, versus the batch coated in the peanut sauce. Eva, the pickiest of all of our eaters, had a try, but like Maggie, chose chicken, raw vegetables, a few noodles and a lot of peanuts. Then there was Bobby or iron gut as we affectionately call him. He dove in, and his only comment was that it needed a little more spice, so he grabbed the hot sauce that he had received as a Christmas gift from his grandmother.
Pad thai is a favorite dish of ours when we have the opportunity to enjoy Asian cuisine, and this was not the first time I had prepared this meal. I had an idea of what it would look, smell and taste like, and this helped guide my preparation. Along the way, I continually sampled the elements as they came together. I tested the noodles, I tried the chicken, I tasted the sauce and checked the vegetables. While doing this, I considered what else was needed until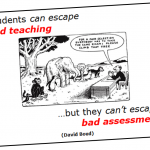 a final dish was presented, crushed peanuts, chopped cilantro and all! It was an enjoyable meal, and all that was left to do was tidy up the kitchen.
Creating a meal for others is very similar to what we are asking our students to do on a daily basis, and if we think about our home ec program, it is exactly what we are asking our students to do. When I think about the process of preparing a meal I think about the ongoing assessment that is involved. The formative assessment as I sample and adjust, and the summative assessment as I set a final dish in front of my family. I think about the elements and key attributes of our division's shared beliefs on assessment (found here) and how I experienced these on Friday during supper time.
Collaboration: when I cook, I cook for my family, not just for myself. If that were the case, this dish would have contained shrimp and fresh bean sprouts. In doing this I am inviting feedback from them, it is a collaborative process. When you think about the products your students are creating, what are some ways you have used a collaborative approach? I think about the opportunities I missed as a teacher when I did not spend time allowing students to turn and talk about their learning. This would be like me preparing the pad thai, eating my portion, then serving my family only to walk away and not engage in their feedback. How would this improve my dish for next time?
Communication: with my supper the communication was instantaneous, starting with Charlie asking, "what smells so good?" There is a trust that exists within our family, and they are not afraid to tell me what they think of my cooking, be it good or bad. How does communication sound and feel in your room? How have you built common understandings and language for your learners? In what ways do you ensure your feedback is timely and shared in a way that allows all of your learners to maintain their dignity? At our table, my family knows they can be brutally honest, but they also know how to behave when they are a guest.
Clarity: while I may not prepare pad thai again for a while, I was able to identify ways this dish was better than previous attempts. I also knew that my creation was not nearly as tasty or attractive as versions I have had at restaurants. How are you providing clarity for your students? Rick Stiggins (@RStiggins) posits that students can hit a target that they know about and that stands still. How are you ensuring the students know what the goal is, and how are you ensuring you are not unintentionally shifting it?
Consideration: this certainly was not the best meal I've prepared for my family, and if they were basing their opinion of my culinary skills solely on this one dish, they would feel their dad had a lot of room for growth. Fortunately, they do not only think about my last meal, but they also remember the spaghetti and meatballs, the Greek chicken, the steak and potatoes, and the homemade burgers. Of course, they also have to consider the terrible soups, or burnt grilled cheese sandwiches of the past as well. Overall, the kids would likely say their dad is a pretty good cook based on the many meals they have enjoyed in the past. In your learning environments, what are you basing your assessment on? Are your students judged by their very best, and only their very best? How are you considering growth and how are you capturing evidence of this? Every so often I get distracted and burn the garlic bread, but does that mean I have not demonstrated proficiency in preparing this in the past? What do you do when kids burn the bread in your lessons? Do you hold it against them, or invite them to throw it out and try again?
The primary purpose for all assessment and evaluation experiences is to support and improve student learning while informing teacher instruction.

-PSSD
When you think about your practices, how are you doing? Over the next few weeks, we will begin discussing our staff learning presentations, and I am very excited to hear your celebrations along with hearing about what you are still wrestling with. Sandra Herbst (@Sandra_Herbst ) speaks about the importance of closing the knowing-doing gap, and this makes me think about the great work we are doing as a staff at #WaldheimSchool. I believe that the learning we are involved in is continually closing that gap.
Here is what is on the horizon for our final week before the February break.
Monday:
Tuesday:
Wednesday:
Thursday:

PSSD Pride Party in Warman
Bruce away (pm only)

Friday:

4 – 12 ski trip
K – 3 fun day
As always, create a great week!
1,038 total views, 1 views today