Good morning!
I am so excited with the warmer weather we are getting and all of the outdoor learning that will bring. Thank you all for being so patient as our Kindergarten website gets up and running! All student photos/videos will be shared strictly to FreshGrade (or email if preferred) to ensure the privacy of our students. I am so thankful for all of the pictures and videos our families are sending me of our Kindergartens learning at home! Although chaotic and uncertain, this can be such a magical time for them to learn at home with their amazing family (you!) and allow us to pause in our busy schedules.
Yesterday afternoon, my husband found an old wasp nest in our shed (yikes!). After we made sure there were no living wasps around it, we took it and and got to have a closer look at it. My son (Ashton who is 4 years old) loved to see its structure and the old layout of the honeycomb inside. He was very excited to notice how the honeycomb in the nest looked very similar to his honeycomb cereal we have in our pantry, and we had fun thinking about why this might be! I am so excited for all of the learning that comes with a new season–indoor and outdoor– and can't wait to hear of all the discoveries our Kindergartens make in their own yards. Happy exploring!
Mrs. Nontell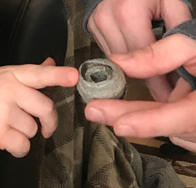 Welcome to Prairie Spirit Blogs. This is your first post. Edit or delete it, then start blogging!