Welcome Back Information
New Student Registration – please visit Prairie Spirit School Division website and complete the on-line registration form.  You can also go to our Registration Tab and Course Selections if you would like to email us the courses you are interested in.  Any questions and course requests for new students can be emailed to warmanhigh@spiritsd.ca.
Students Registered Prior to June 30, 2022 – Students who were registered prior to June 30, 2022 that are worried about their current academic choices and would like to request a change, can email the Academic Advisor at: warmanhighacademicadvisor@spiritsd.ca.  Please ensure your email includes the students full name and the details of what change they would like.  Based on our student enrollment, our classes are full and we cannot guarantee the requests can be made.  Response to the emails will be given towards the end of August.
Bell Schedule 2022-2023
8:50    Warning Bell
8:55 – 9:58      Period 1
10:03 – 11:06  Period 2
11:11 – 12:14  Period 3
12:14 – 12:59  Lunch
12:59 – 2:02    Period 4
2:07 – 3:10      Period 5
Warman High School – 2022_2023 Schedule Information – emailed to families Fri, Mar 25th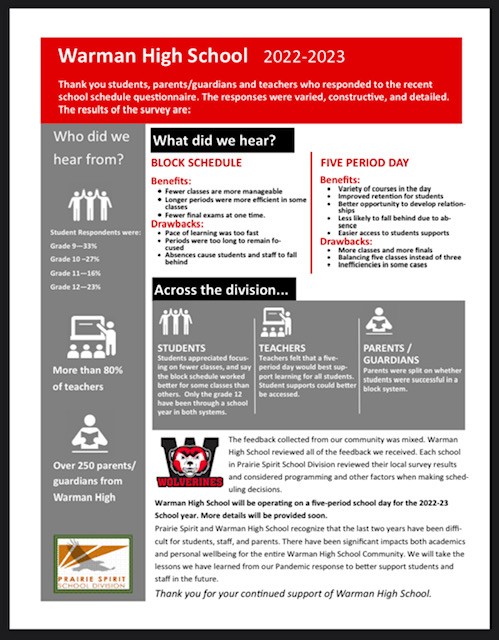 August 27.2021 – Back to School Information Links
Hello WHS Students and Families,
We are excited to start a new year of growth and learning.  The first day of classes for ALL Students is Wednesday, September 1. 
We hope that this email answers a few initial questions you may have prior to our start on Wednesday.
Grade 9 students will be meeting in the gym on the first day for an orientation/tour. Their teacher will meet them in the gym so that students don't have to worry about finding their first period class. From there they will have a tour of the school and will have the opportunity to see the location of their other classes.
New gr. 10-12 students. We will have a table in the gym where staff and SRC students will be available to help students read their schedules and locate classes.
Bus Passes – Students in Grade 9 can pick up their pass in the gym; Students in Grades 10 – 12 can pick up their passes in the Library.  If your students misses the morning distribution, then they will need to pick them up at the office after lunch. 
Power Parent and Power Student is the software program we use for everything from demographic information to scheduling and timetabling. It is important that parents and students learn to navigate this program. You can find a video tutorial on our website. Any PowerSchool questions can be emailed to warmanhigh@spiritsd.ca
School Announcements i.e. sports, drivers education, drama, post secondary schooling, etc. will be available on our website. 
School Fees – We are piloting an online payment system to allow parents to pay for any school fees/items directly from Powerschool.  This is only available through the PSSD website, under the PowerSchool Parent and Student Access, this will not work through the app.  When you log into your child's account, on the left side of the screen you will notice an option of payments and forms – if you go into this area, you will be able to make a payment.  If you prefer, you can still send cash or cheque to the school.
Schedule – We will be following a block schedule again this year. This means we will have 3 classes a day. You can find a visual of the schedule on the school website.
Covid protocols – additional information will follow next week.
Our SRC created a short video tour of the school that can be found on our website.  Here is a link to Warman High School Website
If you have any questions, please email warmanhigh@spiritsd.ca
We look forward to seeing your student on Wednesday.
August 17.2021 – General Information
First Day back for Staff – Tuesday, August 24, 2021
First Day of Classes for Students – Wednesday, September 1, 2021
WHS Supply List – can be found here or under the registration tab. Teachers will advise students if they require anything specific for a certain class.