Re-opening Plan Correspondence
September 18 – RCMP Youth Advisory Committee – Please see link for more information.
September 10 – Driver's Education – emailed eligible students about Driver's Education for 2020-21.  Information can be found under Information & Policies, Driver's Education tab on the school website.
August 31 – Student Schedules are now available, please reference the chart below (or click here) to view the block schedule. Additional information will be emailed to families on September 1st.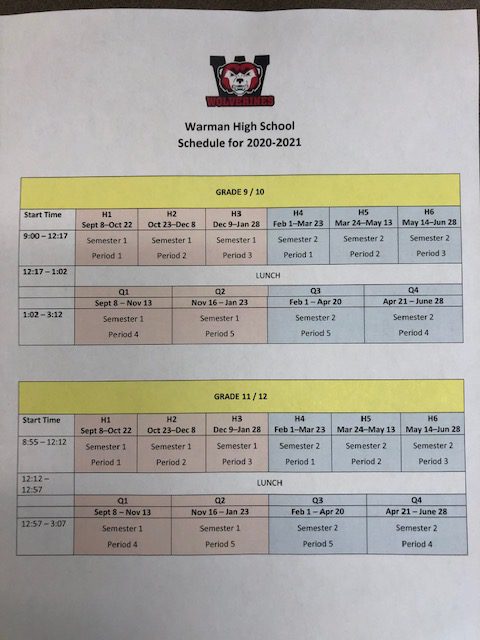 August 27 – Ministry of Education Parent Information Package
In collaboration with public health officials, the Ministry of Education has prepared a Parent Information Package for the new school year.
The package includes:
Information on the Safe Schools Plan
General tips for parents and caregivers
Mask wearing information for children
Information on testing options and processes
Information on COVID-19 notification and illness in school
Information on the threshold for changes to in-classroom learning
Please go to the Prairie Spirit website to view the Parent Information Package.
The Ministry has also posted other links for parents, including COVID-19: Learning Supports for Families and Teachers, on the government website.
August 26 – Warman High Reopen School Plan
Please click here for the Warman High Reopen School Plan
August 26 – Warman High School Safe School Plan
Please click here for the Warman High School Safe School Plan
August 26 – Grade 9 / New Student Tours Postponed – We are sorry to inform you that the school tours will not be held on Sept. 2nd and 3rd. The school tours for Gr. 9 and new students will be done during the soft start/first week of school.  If you did not receive an email with this information, please contact the school at warmanhigh@spiritsd.ca.
August 24 – Update on Grade 9 Tour –
Dear Parents/Caregivers:
In light of Covid requirements we are unable to host our originally planned parent meeting on August 26th. In its place we would like to host tours for new students. We are only able to have students in the building and cannot accommodate parents on the tour. Our tours will be done in groups of 60 or less and Covid protocols will be followed. The tours will be held on Sept. 2nd, 3rd and 4th. An email with further details will be coming shortly.
Thanks for your patience!
August 24 – message emailed to families from PSSD.  Use the link for the information – 2020-08-24 Letter to Prairie Spirit Families
August 14 – message emailed to parents providing information on the Preliminary Re-opening Plan.  Use the link for the information – WHS Preliminary Plan.
August 14 – WHS Supply List – can be found here or under the registration tab. Teachers will advise students if they require anything specific for a certain class.
August 8 – messaged emailed to parents – Information to Families from WHS 
Good morning Warman High School,
With the calendar now on August, many of you are curious what the school year is going to look like for 2020-21. Specific guidelines for school reopening are expected soon and will guide the plan at WHS. 
As the plan for the school year is still fluid, we will not be opening Powers School as we had originally planned but will open it as soon as possible. All students have been registered in the classes that they need for graduation and course changes will be accommodated, where possible, before the start of school and into the first week. 
We recognize that there are many questions regarding reopening, and we thank everyone for their continued patience. Information regarding course organizations, safety pre-cautions, extra-curricular programs, and transportation will be provided as soon as it is available. In the meantime, please send any questions you have to warmanhigh@spiritsd.ca and we will respond as we are able.
Kind regards,
Andrew Merryweather
Principal, Warman High School