Upcoming News & Big Events
June 12 – Message from WHS to Parents regarding Text Book Return
Dear Parents/Guardians,
The end of another school year is approaching and we are asking that students return all textbooks, library books, classroom novels and any other classroom materials lent out to them by their teacher. 
Unfortunately students are not allowed in the school so we will be placing bins outside the front doors of the school.
To help us track the book returns we ask that you place a note on the inside of the book with the students name and the subject teacher and place it in the bin labelled with your grade. Any materials not returned will be charged back to the student. 
Please see the schedule below of when the bins will be outside the school:
Monday, June 15th @ 9:00 am – 12:00 pm
Tuesday, June 16th @ 9:00 am – 12:00 pm & 1:00 pm – 3:00 pm
Friday, June 19th @ 9:00 am – 12:00 pm
Monday, June 22nd @ 9:00 am – 12:00 pm
Tuesday, June 23rd @ 9:00 am – 12:00 pm & 1:00 pm – 3:00 pm
Please email warmanhigh@spiritsd.ca with any questions.
June 10 – Message Emailed to Parents from Director of Education
Message from Lori Jeschke, Director of Education, Prairie Spirit School Division:
The provincial government has made an announcement regarding returning to class for the 2020/21 school year. Please go to the following link to read the government's media release: https://www.saskatchewan.ca/government/news-and-media/2020/june/09/school-year
The Minister of Education said that more information and guidelines for the fall will be provided by the government as early as next week. We will be sharing more information with Prairie Spirit families as soon as we can.
May 7 – Message Emailed to Parents from Board Chair & Director of Education
Please use the following link for a message regarding the remainder of the school year – https://blogs.spiritsd.ca/warmanhigh/files/2020/05/WHS-2020-05-07-Letter-to-Prairie-Spirit-Families.pdf
Mar 30 – Message Emailed to Parents from WHS – Student Invite
Please see the Supplement Learning tab on the website for information that was emailed to parents/guardians regarding and invite to students for supplemental learning opportunities.
Mar 19 – Message Emailed to Parents – Director of Education Message
Please see the following message from the Director of Education, sharing information from the Ministry of Education's Response Planning Team:
https://www.spiritsd.ca/files/docs/Education%20Response%20Planning%20Team%20message%20-%20March%2019%202020.pdf
Mar 18 – Message Emailed to Parents – School Closure Update from Prairie Spirit School Division
Please go to the following link to view a letter from Prairie Spirit School Division regarding the indefinite suspension of classes as of Friday, March 20.
https://www.spiritsd.ca/files/docs/2020-03-18%20-%20Letter%20to%20PSSD%20families%20-%20PKG.pdf
Mar 17 – Message Emailed to Parents – Grades, Credits, etc.
The provincial government's school closure announcement has generated a number of questions and a great deal of uncertainty, for students, parents, and school staff.
Our current priority is to stop the spread and reduce the impact of COVID-19. As we navigate the coming days, weeks, and months, we will continue to share information and do our best to reassure students and families.
There have been many questions regarding final grades, credits, and graduation. There are no concrete answers at this time. Prairie Spirit School Division is seeking clarity on these and other issues before any definite decisions are made. The school, School Division, and Ministry of Education are working to ensure the best possible outcome for students. This outcome will balance the safety needs of the present with the academic concerns of the future.
At the current moment there is no rush to submit marks to the Ministry of Education. Information on what this will look like will be made available in the coming days. Once we have received information on this process, we can make the best decision possible for our students. Granting of credits will also be clarified in the coming days as will requirements for graduation and the details surrounding graduation activities.
We will continue to support our students and community as we progress through these uncertain times. Please know that as we move forward through this process you will continue to get information as it becomes available. Your patience as we move forward is greatly appreciated.
---
Registration for Classes for 2020/21 is now Open.  Please complete you class selection by Friday, March 13th.
If you have any questions, we ask that you please email Gary Philipchuk, Vice Principal, at gary.philipchuk@spiritsd.ca or Susan Bayne, Academic Advisor, at susan.bayne@spiritsd.ca.
---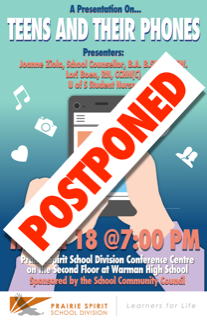 ---
About Us
Warman High School is a grade 9 to 12 school with an enrollment of approximately 655 students and a teaching staff component of 1 principal, 2 vice-principals, 37 teachers, 11 educational assistants, 2 administrative assistants and 7 caretakers. Classes for grades 9 to 12 classes operate on the semester system.
Warman High has established a tradition of excellence in the academic, athletic and artistic fields and we are proud of the accomplishments of our students and staff.
We encourage parents to contact the school as soon as possible if your children will be registering at Warman High School. This assists us in staffing, developing student timetables and making the transition for your child to Warman High as smooth as possible.
School bus service is available to the rural residents of Prairie Spirit School Division #206. Please contact the school and we will assist you in making bus arrangements.
We offer a full academic program with a broad range of electives: Fine Arts, Advanced Placement Calculus, Advanced Placement Studio Art, senior sciences (Biology, Chemistry, Physics), Industrial Arts, Home Economics, Psychology, Law, Christian Ethics and French. Our fully networked school has two computer labs that enable us to offer Information Processing, Computer Science, Accounting, Computer Assisted Drafting and Design (CADD), Computer Production Technology and Photographics as well as introductory computer skills and keyboarding at the middle years level. Each classroom has a pod of four computers for student use. Internet access is available at more than 200 computers throughout the school.
Warman High School Contact Info:
Warman High School
Box 403
Warman, SK S0K 4S0
Phone: 306-933-2377
warmanhigh@spiritsd.ca