Welcome Information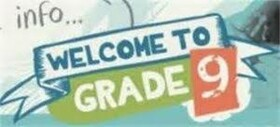 If you have a child going into grade 9 for the 2023 – 2024 school year, there will be an information night at Warman High School. We look forward to seeing you.
What: Grade 9 Orientation Night
When:  Wednesday, April 19th
Time: 7:00 – 8:00 pm
Where: Warman High School – Gym
_______________________________________________________________
April Driver's Education Class
Dates: Apr. 17 – May 11
Times: Monday, Tuesday, Wednesday, Thursday from 3:30 – 5:30 – attendance is mandatory for students pass the class.
Eligibility: Students must be 15 years of age by March 31, 2023 to be eligible for the class.
Space is limited and spots will be filled by date of birth with oldest students being accepted first.
Registration Deadline: Tuesday, April 4th
Registration and More Information: can found under Information & Policies; Driver's Education or you can click here for the April Registration Form.
If you have questions, please email warmanhigh@spiritsd.ca
_______________________________________________________________
August 25, 2023 – Back to School Information Links
Hello WHS Students and Families,
We are excited to start a new year of growth and learning. The first day of classes for ALL Students is Thursday, September 1.
We hope that this email answers a few initial questions you may have prior to our start.
Grade 9 students will be meeting in the gym on the first day for an orientation/tour. Their teacher will meet them in the gym so that students don't have to worry about finding their first period class. From there they will have a tour of the school and will have the opportunity to see the location of their other classes.
New gr. 10-12 students. We will have a table in the gym where staff and SRC students will be available to help students read their schedules and locate classes.
Bus Passes – Students in Grade 9 can pick up their pass in the gym; Students in Grades 10 – 12 can pick up their passes in the Library. If your students misses the morning distribution, then they will need to pick them up at the office after lunch.
School Announcements i.e. sports, drivers education, drama, post secondary schooling, etc. will be available on our website.
School Fees – with the change in the computer system, please watch for additional information to follow once we know the new process for payments.
Schedule – will be five periods in a day.
Our SRC created a short video tour of the school that can be found on our website. Here is a link to Warman High School Website
WHS Supply List – can be found here or under the registration tab. Teachers will advise students if they require anything specific for a certain class.