December 4th – 8th
Posted On December 3, 2017
Another wonderful weekend is wrapping up, and I have a bit of a quiet moment as Krista and Maggie ventured out to the Sundog Festival and the other kids are playing. It was an enjoyable weekend which included an opportunity to watch a local band on Friday night, family pictures on Saturday, and rest and relaxing on Sunday.  Hopefully you were able enjoy your days off as well.
As I mentioned, I was able to take in a concert on Friday night at the Bassment, as a local group, The Randy Woods Band (@randywoodsband), was playing. This group, that plays a mix of ska, jazz, reggae, and funk, do a great job of getting the dance floor packed, they are a lot of fun to watch. During a break between their sets I had the fortune of speaking with a band member, part of the horns section, and it was really interesting to listen to him talk about some of the little things they do to add depth to their music. He discussed how he and the saxophone player push and challenge each other during their performances, he said the key to this was really listening to each other, not just reading the notes on the page. As they took the stage for their second set, I was more aware of what he had told me, I was able to watch and listen, and it added a whole new level to the experience.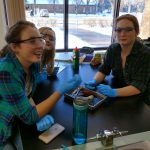 I've been thinking about that all weekend, how all the band members came together to create an enjoyable evening, and it got me reflecting on the work all of you do. In his band, each performer practices to perfect their craft, so they can be a confident, contributing member of the collective. As principal, that's what I want for our school. Teachers, EAs, caretakers, admin assistants, and administrators all working together to create the best possible experience for our students, they are, in a sense, our audience. The Randy Woods Band gets their feedback from the crowd, we get ours from our students. While the band can observe dancing, read reviews, and hear applause, we can use side-by-side learning and assessments as our guides. As I walk the halls and visit classrooms, it feels like we are really becoming that "band". I am seeing a certain type of engagement from room to room, as well as hearing common things across the grades. I am not seeing a one-man (or woman) show, what is commonly referred to as the sage on the stage approach. Rather, I am seeing teachers guiding learning, allowing students to make discoveries and connections. Are we perfect? Not yet, but neither was the band I watched, but that's why they (and we) continue to practice. As you think about how a musician practices, what connections can you make to how you strive to improve in your role?
This Monday gives us another opportunity to learn together as we gather after school to work and learn with Sara Michalchuk. I sent out an agenda yesterday, hopefully you have a chance to read it over, and think about the questions asked. We are doing important work, and grappling with tough situations, not unlike the tough work being done in this video:
Here's what lies ahead this week:
Monday:
Tuesday:
Bruce & Jesse away at ALT meeting
Wednesday:
Classroom visits: Question for students, "how does your teacher know what you need?"
Thursday:
Classroom visits Question for students, "how does your teacher know what you need?"
Friday:
Classroom visits Question for students, "how does your teacher know what you need?"
As always, create a great week!
364 total views, 2 views today