Home
»
Community Ads and Events
Community Ads and Events
If you would like us to include your information on this page, please send it in an email to janice.germo@spiritsd.ca; all information is subject to the approval of our Administration.
DROP-IN FLU CLINICS 2019 – click here for the location nearest you:  Drop-In Flu Clinics 2019
INTERESTED IN LEARNING MORE ABOUT THE IMPACT OF MENTAL HEALTH? – don't forget to register for our community based event in November! Registrations are coming in and if you are even remotely connected to the issues of mental health, wellbeing, parenting in the 21st century, self care, leading and managing with care, and more, you will have many take -a- ways from this day!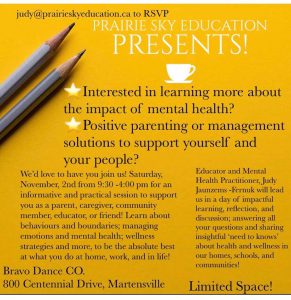 🦋The event costs $75 for the day.
🦋 $60 if you register with a friend.
🦋 consulting services with Prairie Sky are $125 – $150 per hour and this day is worth hours of mental health, behavioural, and motivational consulting and support!
🦋 $25 due at registration to hold your spot.
🦋 contact us if this service is of need to you or your family and the only barrier is financial. Prairie Sky honours limited reduced / free rates.
🦋 Take advantage of this one day opportunity that promises to inspire, engage, and support you with your toughest personal or professional questions.
🦋Contact: Judy@prairieskyeducation for information, or to register!
TUMBLERS GYMNASTICS – join the fun!  Click here for information:  Tumblers Gymnastics
BEFORE AND AFTER SCHOOL PROGRAM – the Before and After School Program at Venture Heights has a very limited number of spots available.  For more information, please call Lynda @ 306-381-6753.
BUSY FINGERS PRESCHOOL – contact Adrienne at 306-227-0293 for more information.
MARTENSVILLE FREE PANTRY – yes, right here in Martensville.  Click here for information: Martensville Free Pantry
MARTENSVILLE SOCCER ASSOCIATION – please check out our website at http://www.martensvillesoccer.com for more information and registration.
DO YOU NEED A TUTOR FOR YOUR SON OR DAUGHTER?  Mrs. Diane Beaule, a retired elementary school teacher, has openings for students who need a tutor.  Diane has taught for 32 years, and is able to tutor elementary school children in any subject area.  Most of her career was spent teaching grade 7, so she is particularly qualified to work with middle years students from grade 6 to 9.  Most of her tutoring work so far has been in Mathematics.  If you wish to contact Diane, phone or text 306-978-2468, or email her at wd.beaule@sasktel.net
AH-HA! HOMEWORK CLUB – is a great environment for elementary and high school students to work on test preparation, projects, homework, etc.  Our volunteers are here to aid students in their academic journey!  Come check us out in Room #2 of the Martensville Information and Visitor Centre! A calendar of dates and times can be found on our FaceBook page.  **Please note: Ah-Ha! Homework Club is not a guaranteed tutoring service, but rather a volunteer run program in which we aim to help students to the best of our abilities.  For a list of tutors, please contact the Martensville Information and Visitor Centre directly at 306-242-0362.
Martensville Information & Visitor Centre Civic Centre, 66 Main Street. Room #2
WITH GLOWING HEARTS DAYCARE – If you are looking for a daycare close to Venture Heights School, this is the place!  Contact us at:  withglowingheartsdaycare@gmail.com  or 306-493-7949.
ABC ACRES CHILDCARE – Looking for a new, fun, educational, and healthy childcare environment for your child?  Look no more!  For more information, click ABC Acres Childcare Information.
MARTENSVILLE LIBRARY
Library Hours:    Mon-Thurs: 10am-12pm, 1pm-8pm; Friday:  10am-12pm, 1-6pm; Saturday: 10am-3pm; Sunday: Closed
Located in the Civic Centre at the corner of Main Street and Centennial Drive.
Phone: 306-956-7311      Email: martensville.library@wheatland.sk.ca      Website: www.wheatland.sk.ca     Facebook:  www.facebook.com/MartensvilleLibrary
MARTENSVILLE COMMUNITY PROGRAMS – The City of Martensville offers a variety of programs for all ages.  A number of programs still have available spaces.  If you are interested in learning more about what is offered, please contact the Rec Department at 306-683-5577 or email: http://recprograms@martensville.ca
MARTENSVILLE COMMUNITY ACCESS CENTRE
Located in the Civic Centre at the corner of Main Street and Centennial Drive.
Phone: 242-0632      Email: communityaccess@sasktel.net